Hi everyone,
I hope you had a safe and good New Years.
I got up really early on new years eve an got on a train to london,
queued outside the Apollo Victoria theatre from 7am till 10am when they opened...
why i hear ask? .......
because after me and paul kept chatting about seeing Wicked and me humming the songs,
my daughter really wanted to see it....
and every morning at 10am they give out 24 front row tickets for just £25.00 each!
can you believe I wasn't the 1st there either, there were 8 ladies there before me
who had slept there in sleeping bags the whole night!
and a few others that got there at between 6 and 7am!
so i was lucky to get them, but get them i did ......woohooo
My daughter had xmas money, and it made me so proud when she offered to pay
for both tickets, of course i didn't let her.
anyway I cant stop singing the songs ..I think I am a little obsessed...
Defying Gravity is my favorite song, I would definitely go again.
anyway it really inspired me,
and I wanted to make a desktop cos we have all gone a bit wicked mad in this house....
I did tell you I was a little obsessed...
its on my desktop right now, i made it from scratch, just using brushes and filters.
even got paul (my hubby) to draw the witch, which i then made into a brush.. he he.
anyway I am pretty pleased with how it came out so thought I would share,
just in case there are any other Wicked fans out there.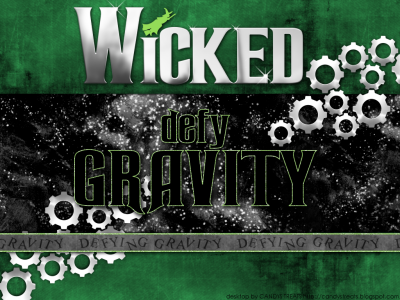 we took a couple of piccies outside,
and i just might try my hand at an actual scrap page for my new scrap book!
you can download the desktop I made
HERE
till next time
Diane x