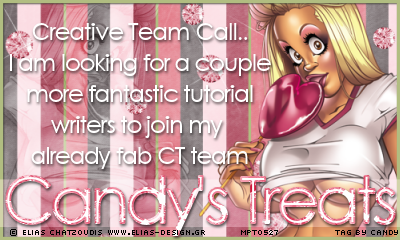 hello everyone...
I am looking for some fabulously creative tutorial writers to join my already fab CT team.
Can you make fab tags?
do you have a tutorial site?
Do you advertise through at least 3 tutorial groups?
Would you like to receive my kits for free?
If so I would like to hear from you....
email me at
diane@paulknightonline.co.uk
with a link to your tutorial site.
I will give it a week or so to give you all a chance to send me your applications..then i will choose a couple of you to join the team...
I look forward to hearing from you...
Diane x